Difference between condo and townhome at Windsor Hills
When travelling to Florida with a smaller party decisions about accommodation often move from which resort to which type of property. And for smaller parties that usually means condo or townhome? So what are the differences between the two smaller accommodation options at Windsor Hills?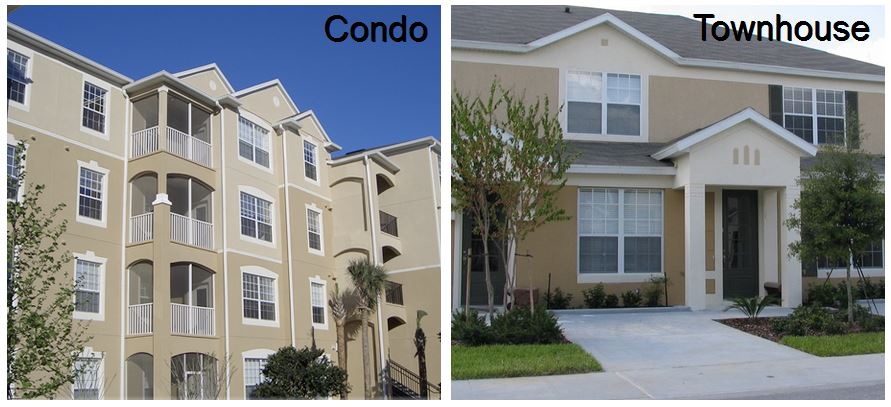 Pros for a Condo
Condos are cheaper than townhomes.
Condos offer more flexibility. Condos at Windsor Hills are 2 bed or 3 bed.
Condos come with private balconies. Great for views of the resort and pool area.
Condos at Windsor Hills can be found in The Ventura area. This is closest to the large lagoon style community swimming pool and clubhouse. However townhomes at Windsor Hills are not far away either and can be found in The Vistas area.
Condos are more suitable for disabled or very elderly holidaymakers as they offer accomodation on one floor and have extra wide doors throughout. All condo buildings at Windsor Hills come with two fast elevators per block meaning nobody has to climb stairs unless they want to.
Pros for a Townhome
Townhomes are generally bigger than condos although worth checking floorspace as 3 bed condos at Windsor Hills are bigger than townhomes. All Townhomes at Windsor Hills are 3 bed/3 bath.
Townhomes have a driveway so you can park your car right in front of your accommodation.
Townhomes come with their own private plunge pool at Windsor Hills. These are roughly 15ft sq, 4 ft deep and can be heated in winter months. A private pool is a great option if you have small kids or just for relaxing by on lazy afternoons or in the evening after a hard day at the parks.